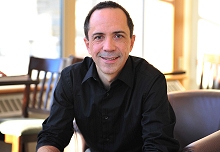 Hi, my name is Jeffrey Kirk. Over the past 20 years, I have helped hundreds of businesses with their online presence, even earning a BizTimes Top 10 Small Business Award in the process.
Now I am known for making internet marketing concepts easy to understand and implement for traditional, offline businesses looking for online success.
Where Was Your Business in the Mid-1990's?
But it didn't start that way. I launched my first "ecommerce" business back in 1993. That's probably well before you considered using the internet for anything serious.
Ecommerce was different then. Yahoo and Google did not exist. And we weren't really even using the term ecommerce. It was more a hybrid system using dial-up internet, along with a fax machine for communication, and wire transfers and letters of credit for banking needs.
In 1995, needing more reliable internet access, I started the first dial-up internet service in Waukesha, Wisconsin, initially offering access to businesses. But it was too soon. Local businesses were not ready to embrace the online world. So I opened up to residential dial-up.
Businesses Jump For Online Positioning
By the late 1990′s many concepts that you're familiar with today began to exist. For example, the development of websites that had to look good and work good were starting to appear. Search engine optimization was simpler then, but appearing on the radar of those who wanted to show up at the top of the results.
My company stayed in the mix; experimenting with new technologies, learning what businesses needed, what customers wanted, and how to make a difference for our clients. Now, with more than 20 years of online experience behind me, I have put together a step-by-step easy-to-follow training and coaching system.
How You Save Money Month After Month
I truly care about your business results and want your website to work for you. I do not want you to spend money on a new website you don't need, or waste money on search engine optimization from companies that can't explain what they're doing for you.
With the system I put together you gain the expertise within your own business to become visible in the search results.
At last, your business gets seen. And, once your business can be found, you can enjoy traffic, improve conversions, and get the results you have always wanted!
Let me demonstrate… Download a case study showing how we got a small local business to show up 7 times on the first page of Google search results. Click here.