Be Seen Online With Up At Dawn, LLC
Do want your business to be seen online so that you can turn searchers into new clients or customers? You're in the right place!
You need three things to have a successful internet presence for your business… Visibility, Traffic, and Conversion.
In order for your website to work for you it must be seen by your prospects (visibility), it must induce them to visit your site (traffic), and it must excite them to take action with your business (conversion).
At Up at Dawn we help your business achieve all three of these things.
Visibility…
We help your business get seen. Using the latest trends in internet marketing, combining the art and science of search engine optimization with a nationwide media reach, we created a new process which we call the Authority Visibility System™. This system will shine the spotlight on your business so you can leapfrog your competition in the search results.
Traffic…
We help get more visitors to your website. The authority and credibility of those talking about your business is enough to bring in consistent traffic. But sometimes being visible is not enough. If your site suffers from a Critical SEO failure, we must fix this. Your visible presence must induce your prospects to begin the relationship by clicking on a link to your site or by calling you directly.
And we help get more visitors to your business. If your business serves a local audience, then appearance in the Money Zone™ (the prominent part of the search results with a map) can translate directly into phone calls and office visits without a searcher stopping at your website first.
Conversion…
Ultimately, this is what's all about. You want your online presence to help you convert traffic into qualified leads and new clients.
Many people think about website success as a numbers game. If you get enough visitors to your website, you'll get some business. So most people come to the conclusion that all they need is more traffic. The reality is that you can get all the traffic in the world, but if you have a conversion rate of 0, you will get no leads or sales. There must be an effort to increase conversion.
When the traffic to your website converts, then your website is truly working for you! And when the conversion rate goes up, the same amount of traffic delivers more revenue.
"Jeffrey Kirk looked at my current web pages and opened my eyes to making them inviting and compelling. He taught me how to streamline the message on the web page so the visitor feels a natural flow to becoming my client. I am glad to recommend Jeffrey as someone who can help you take your business to a higher and better level."
– Tom Marcoux, Tom Marcoux Media, LLC
When your web presence is visible, and it's getting enough traffic, and it's able to create a sustainable conversion rate, then your website becomes a productive, profitable participant in your business.
Want to Learn More?
We encourage you to review our digital marketing solutions to discover the ways we can get started helping you and your business.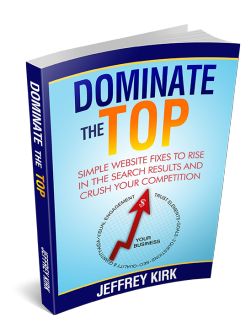 Additionally, you might be interested in the book, Dominate The Top: Simple Website Fixes To Rise In The Search Results And Crush Your Competition. This book was written by Jeffrey Kirk as a result of his more than 20 years of experience helping businesses succeed online.
Dominate The Top shows you the "7 Components of an Effective Website" including the critical SEO elements that are necessary for optimal visibility and traffic. The book also goes beyond these things to help diagnose common problems and get your website into top shape.
"This book is an invaluable resource for businesses that want to have a greater online presence. If you take the time to follow the recommendations presented in this book, expect to see results. Our company's website traffic has grown by 81.86% in just one month!"
– Jenna Dehn, Armitage Research
Not ready to buy a book? How about a FREE report? We can offer you a report based on the book. It's called Dominate The Top: 3 Crucial Steps to a Profitable Website… It's available to you here.