Video Summary
In this brief video, Larry Cockerel interviews Jeffrey Kirk about one of the points in Jeff's book, Dominate The Top – Simple Website Fixes To Rise In The Search Results And Crush Your Competition.
Larry is a sales trainer and motivational speaker.
Jeff has had the opportunity to speak at some of Larry's business-building seminars. Jeff has spoken on the topics of visibility (getting websites seen), traffic (getting people to visit), and conversion (getting people to take desired actions).
In this interview, Larry reveals that he enjoyed a question posed in Chapter 1, on page 9. It's at this point where Jeff asks, "How did your website end up like this?"
This leads into the fact that most websites do not function the way they were intended. Most websites do not produce the type of results that are hoped for in advance of their creation.
There are some very specific reasons for this failure, some of which are historical in nature, based on the processes by which we came to develop websites.
And, since each generation of websites is based on the preceding generation, the problems are carried over from new site to new site.
As the conversation continues, it becomes clear that you do not need a good looking website in order to get results. There are other more important factors.
Click the following link to get your own copy of Dominate The Top — Simple Website Fixes To Rise In The Search Results And Crush Your Competition!
[Do you like this? Please share it for me!]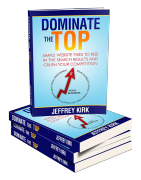 What Does It Really Take To Get A Top Search Engine Rank?

In Dominate The Top you will discover the simple steps you can take to fix your website.
Get higher in the search results, get more traffic, and get more visitors taking action once they get to your website!
CLICK HERE to get it from Amazon or order direct from the author.
Video Transcript
Larry: Hello, my name is Larry — sales and business strategist. And today I'm here with Jeffrey Kirk. And we're talking about Jeffrey's new book.
The one thing I love about Jeff is — he spoke at some of my business seminars in the past on teaching people how simple it is to master the websites, and understand truly how simple it is to market their business.
And then, all of a sudden, Jeff comes up with a book that even makes it more simple for me, and people like you who are just, "Hello, I'm from Arkansas, right?", that need to keep it simple. So Jeff, I'm loving it, I really am!
Jeffrey: Excellent, thank you.
Larry: And Jeff, say hi.
Jeffrey: Hi.
Larry: I got — there's one thing in the book I like, it's on page 9.
Jeffrey: Okay.
Larry: Folks, and he has in here, "How did your website end up like this?"
Now how many times have other people — Jeff — or even myself, I've asked the same question. How did it end up like this?
And I'm realizing now after Jeff put it in such simple words — is it working for you or is it looking good?
You know, at first I thought it needed to just look good. And if it looked good, then it would work, right? And then I got to thinking, well it ain't working. So the looking good just about, isn't about everything.
So what Jeff teaches in his book, and in his coaching, and his business, is that you need a little of everything mixed in. Just like a great bowl of chicken noodle soup, right?
Jeffrey: Yeah exactly.
Larry: It all needs to be mixed up, but if one's moving more to the other — so when I started out my website years ago, I thought it was all about looking good.
Jeff talks about in his book, that it's almost like — when I was printing my brochures, I wanted the website to look like my brochure. And then I thought I hit a home run. But I realized that that wasn't making it work also, Jeff.
So out of this, looking good and work… What's the real simple answer to all this? Real simple, listeners…
Jeffrey: The real simple answer is that looking good and working good are side effects.
The real answer is that a website should be part of a marketing idea. It's a marketing project. How is your website going to support your business? Once you know that, then you can determine — okay, how should it look, and what's it going to do.
Larry: Should it look just like my brochure?
Jeffrey: Should it? Maybe there are some elements that should, because you want to keep your branding flowing from your printed projects to your online projects.
Larry: So when I'm developing my website, or not trashing it like I used to — and spending more money to create something that wasn't what I wanted in the first place, maybe expanding on what I already have, based on a lot of what I've learned from you Jeff — I need to really ask some in-depth questions about really what I want to achieve, and what you want to achieve with your website. And if it's just about looking good, well that's pretty easy, right?
Jeffrey: It is.
Larry: But at the end of the day, in business, I think we want to do more than just look good.
Jeffrey: Right, in fact, you go to the search engines, and you do a search. Google doesn't take looking good into consideration in the searches.
Larry: They're not going to find this face looking good?
Jeffrey: You're not going to get that number 1 position because you have the best looking website.
Larry: So looking good isn't everything, my friends. But this is a very valuable piece on page 9 of Dominate the Top, the book that Jeff has created. And he shares these topics with my business building seminars.
Terrific information here Jeff, I thank you.
Jeffrey: Great, thank you Larry.
[If you would like to be notified when new articles are posted, you can subscribe below.]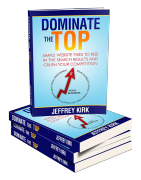 What Are You Waiting For?

Seriously, this is the lowest cost path to getting your website to appear high in the search results. Imagine your website finally performing the way you always wanted it to.
Get higher search rankings, more traffic, more visitors taking action, and convert all that to more money on your bottom line!
CLICK HERE to get it from Amazon or order direct from the author.

Jeff has more than 20 years of experience working with service-oriented business owners and sales professionals who are struggling to get clients. He helps them get their businesses seen online so they can get more visitors to their websites and convert those visitors into leads and sales. Do you want more leads?
Here are the 3 crucial steps to a profitable website.

Latest posts by Jeffrey Kirk (see all)