SEO is a diverse topic which touches on a variety of on‐page and off‐page techniques. If you are not well versed in these ideas you can easily make mistakes which can hurt your site's performance, in terms of ranking, traffic, and overall conversion rate.
There are quite a few innocent mistakes that you might make unknowingly, leading to drastic repercussions. To help you avoid some of these here are some of the common SEO Mistakes that you need to fix for a successful SEO campaign.
Let's start with 5 common mistakes, and then I'll show you an infographic that contains 21 more…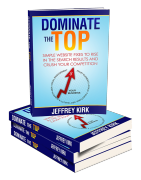 Do You Enjoy Hands‐On SEO?

If so, get the book with everything you need to make your website more visible, get more traffic, and convert those visitors into leads…
Get your own copy of Dominate The Top from Amazon or from the author.
Common SEO Mistakes
1. Low‐Quality Content
Let's start with content quality because this affects everything related to your online presence. The quality of the content on your site is broader than SEO, but remains key in SEO results.
As search engines learn to read, content becomes more and more important as part of SEO. Of course, it remains critically important for your human visitors, too. Therefore, you must put in extra effort to ensure that the content that you create is useful and engaging to your audience.
As your site gains more and more quality content, you enhance your brand's image, your business's credibility, and your search engine rankings improve.
2. Choosing Keywords Without Proper Research
Keywords play a vital role in the search engine optimization process. Without proper research, you are wasting your time. Many businesses that offer SEO services will waste your time and money too, simply because they do not research the best phrases first.
One common mistake is optimizing a website for industry‐insider phrases instead of the phrases that your customers are more likely to search for. You must show up for the phrases that your customers search for, not the ones your vendors search for.
Another similar problem is taking the time to successfully drive your business to the #1 position for a phrase that absolutely no one searches for. You can spend a ton of money and your SEO firm can demonstrate that they got you the top position, but if you and they are the only ones searching for this, it will never help your business.
3. No Sitemap
A sitemap is an essential SEO tool that can make navigation of a site easier for both search engines and site users. In days gone by, a simple site map was a page on a site that included links to all other pages. It allowed a visitor to quickly find anything. These can still be useful on some sites.
More importantly today, is a separate sitemap for search engines. Some website platforms produce these automatically, some do not. These sitemaps help search engines index all of the important pages of your website even if they cannot find direct links to pages.
You do want to make it easy for Google to index your site, don't you? Then be sure you have a sitemap!
4. Slow Website Speed
Website speed and download time are one of the crucial factors that help enhance user experience. If your website is slow and the download or response time is sluggish, users will immediately leave your site, leading to increased bounce rate.
When Google visits your site to find content to index, they also measure the time (in milliseconds) they take to download the content. Google wants to deliver a great user experience to all searches so fast sites are more likely to be listed in the search results than slow sites.
To make sure your site can be easily found, it is important to optimize your site's speed and performance.

Go Beyond SEO!

Can I Design an Online Marketing Plan for You?

Yep, I'll take a look at your site, your SEO, and give you a custom marketing plan. There's no charge. In fact, I'll pay you if you think I waste your time!

5. Non‐Responsive Website
Today, websites must be responsive. In this case we don't mean that the site responds in a timely manner, but rather that the site responds and looks good on all types of devices. It must look good on a desktop computer as well as mobile devices.
By having an unresponsive website, or a non‐mobile friendly site, you risk alienating some of your potential audience. This can affect your site's ranking and traffic as well because Google has started removing non‐responsive sites from mobile search results. Depending on your business, this kind of penalty could cost you 50% or more of your traffic.
The Common SEO Mistakes Infographic
The 5 SEO mistakes listed above are just a few of the most common mistakes that plague many websites, and kill their results.
If you are curious about what other SEO mistakes to be aware of, then take a look at this impressive infographic that has listed the Top 25+ SEO mistakes that you ought to fix as soon as possible!
This infographic of 25+ Common SEO Mistakes is from the team at Hostingclues.com.

So you have an SEO mess…
What Are Your Next Steps?
Want to link to this page? Here is the link:
Embed this graphic on your site. Just copy and paste the code below…