The road to optimizing your website can be hard. However with the right set of SEO techniques, you can overcome this task with ease.
SEO is one of the crucial factors that can make or break your brand. Therefore, learning all about the best SEO tactics will help you to not only optimize your site, but it will also help you to get your website on the top of the Google search result pages.
Also, since SEO is a significant way to improve your site's visibility and traffic, focusing on the basics of SEO is important if you want to see the visible result of your investment. The key here is to focus on building a strong SEO platform for your business, upon which you can then build other activities.
So to begin with you need to get your on‐page SEO ranking factors right.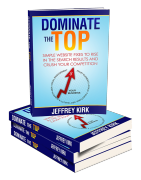 Trouble Finding Your Website?

Here's how to make your website more visible, get more traffic, and convert those visitors into leads…
Get your own copy of Dominate The Top from Amazon or from the author.
What Are the Categories of SEO?
The SEO activities you can perform on your website, such as creating a sitemap, internal linking, writing quality meta tags, descriptions, keywords, and the use of alt tags for images, among other things, are referred to as on‐page SEO.
This is followed by off‐page SEO techniques that include creating social media handles for your website, article submission, guest posting, outreach strategy, etc.
When you use both on‐page and off‐page strategies together, you'll be able to increase not only your site's ranking but also your site's traffic. And if you do a great job, this can even have a positive impact on your site's conversion rate.
Why Use SEO?
In addition, SEO is a cost‐effective and a long‐term marketing strategy, and as such, it is one of the most effective tools that can help you to grow your business. To help you understand how powerful SEO can be, here are some of it key benefits:
SEO can improve your site's speed and performance
It enhances user experience by improving your site's functionality
It increases your site's click‐through‐rate
It helps generate targeted traffic
It helps you acquire quality links from top‐notch websites
It assists in creating more brand awareness
It helps to improve your site's ranking for targeted keywords
Now, if you are unsure as to which SEO techniques might be right for your business, then here is a definitive SEO guide that you can use which consists of the best SEO practices.
What Is This Infographic About?
This guide is a comprehensive checklist that contains more than 75 SEO steps that will help you perfectly optimize your website. Also, with the help of these strategies, you'll be able to improve your site's organic traffic and boost you ranking on SERPs.
Moreover, these techniques are categorically divided into on‐page and off page SEO tips, thereby making your task of implementing it for your website easier. Plus, this comprehensive checklist is cleverly compressed into an impressive infographic that you can download for free.
So check out this stunning infographic today, and learn the best ways to optimize your website!
Killer SEO Checklist Infographic by the team at Capsicum Mediaworks, LLP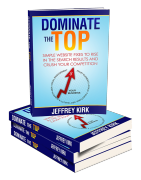 Is SEO Fun For You?

If so, get the book with everything you need to make your website more visible, get more traffic, and convert those visitors into leads…
Get your own copy of Dominate The Top from Amazon or from the author.
What? You Don't Want to Worry About 75+ Steps?

No problem! How would you like it if we do all the work for you?
And what if we go beyond all the SEO and even guarantee leads from your website! Click here for more info.
Want to link to this page? Here is the link:
Embed this graphic on your site. Just copy and paste the code below…