[Do you like this? Please share it for me. Thanks!]
Video Transcript
Hi, I'm Jeffrey Kirk.
Have you ever done a search for your own website and discovered an old page in the search results that no longer exists?
Recently, a client had to change some page names due to government requirements. The correct action to take in this case would have been to create 301 redirects from the old names to the new names. This would have updated the information in the search engines.
However, in this case, my recommendations were not followed. As a result, the old pages remained in the search results after the pages were deleted.
Since these old page names implied an affiliation that was no longer present, the business became urgent in their need to remove these old page references that were no longer applicable. In other words, they needed a way to tell Google to remove them from the search results right away.
No worries. The process is actually quite simple.
You can do this quickly and easily using Google's Webmaster Tools, also known as the Google Search Console. You will find the Remove URLs tools within the Google Index menu of the console.
If we go to the computer, I can show you exactly how to do this…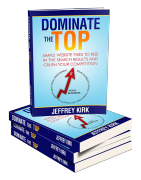 Website Not Generating Business?

Here's how to make your website more visible, get more traffic, and convert those visitors into leads…
Get your own copy of Dominate The Top from Amazon or from the author.
Demo: Remove Pages From Search Results
All right, I am making several assumptions at this point. In order to remove pages from Google you have to have a Google account, and your website must be connected to Google Webmaster Tools.
It makes sense that Google is not going to allow every page removal request from the search results. Just imagine the chaos if anyone could tell Google to remove all of their competition!
So, to prevent abuse, you have to be the verified administrator of a website in order to tell Google to remove a page from that particular website.
For today's example I will remove a page from my own Up At Dawn website.
You might remember in a previous post, I showed how to use the site: operator to look up the pages in a site. And, when I did that, I found a page on our own site that should not be in the search results. So today I will tell Google to remove it!
I started out by logging into the Webmaster Tools Search Console, and you will need to do the same. The easiest way is to just go to Google and search for webmaster tools and click on the search console link.
Then, if you're not already logged into your Google account, you will be asked to log in. And when you do that, you will end up on a page that looks something like this…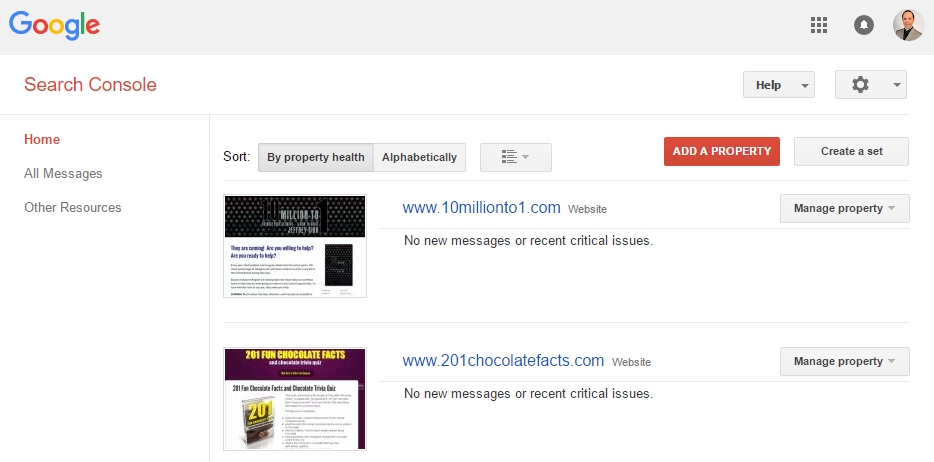 And when you get to this page, you would click on the link that represents your site.
Most likely you will manage a single site or maybe a couple. But as you can see here, I manage quite a few through this Google account. So I am going to do a quick search, get to mine, and then I can click on my site.
Next, I open the Google Index menu item here on the left. And then I click on Remove URLs.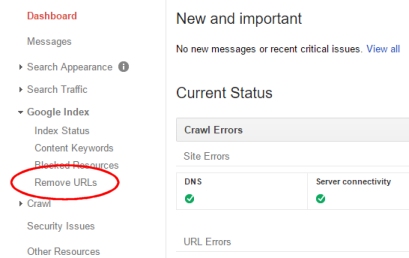 Now look at this note here. It says, "Temporarily remove URLs that you own from the search results." That means that if the pages continue to exist on your site, and they are set to be indexed, Google will eventually return them to the index.

In other words, if you want to make this removal permanent, you have to make sure the page no longer exists on your website, or you set it so that the page won't be indexed. The easiest way to do that is with a meta robots tag.
Let's assume the page has already been deleted or is otherwise inaccessible at this point.
Then you click the Temporarily hide button.
Next, enter the path or full URL of the page you want to hide from the search results. In this case I want www.upatdawn.biz/author/abupatdawn, and then I will click Continue.
Now there is a Request type, and there are 3 options here:
Temporarily hide page from search results and remove from cache
Remove page from cache only
Temporarily hide directory

If you no longer want a file to appear at all in the search results you choose option 1, "Temporarily hide page from search results and remove from cache."
That's what we are going to do with this particular file today.
The second option, "Remove page from cache only" is a good option if the page has changed significantly. This way you are telling Google to remove it from its cache, but then Google is free to grab a new copy and index it appropriately.
The final option, "Temporarily hide directory" is good if you want to remove all the files that exist within a single folder of your website. This allows you to do it really quickly.
For the first and third options, you can expect the page or pages to disappear from the search results within a day or so. They will be removed from Google's index for about 90 days. That's why you have to make sure they are truly unavailable if you want them to never reappear. Otherwise in about 3 months, they're coming back.
Once you have made the appropriate selection, click on Submit Request.
At this point you can see all of your requests lined up below. And, if you have another page to remove, you can click the Temporarily hide button one more time. Repeat that for every page on your site that you want to eliminate.
Or, if you made a mistake, if we're still in the pending status, you can hit cancel and that will be removed. Otherwise once the status changes from pending to that it has actually been implemented, there will be a separate button here that says Reinclude, which allows Google to go back and reindex the site.

And, that's it…
See, that wasn't too difficult!
It's a whole lot easier this way than trying to get someone at Google on the phone!
Good luck managing your website.
Be sure to subscribe to my web page or the YouTube channel so that you are notified when new posts are published. Of course, if you enjoyed this post, please like or share it on your favorite social platform.
If you're watching this somewhere other than my website, then please visit upatdawn.biz where you will find more information, including the full transcript of this video.
And, have a great day!
[If you would like to be notified when new articles are posted, you can subscribe below.]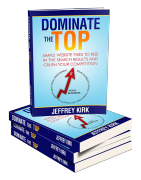 What Are You Waiting For?

Seriously, this is the lowest cost path to getting your website to appear high in the search results. Imagine your website finally performing the way you always wanted it to.
Get higher search rankings, more traffic, more visitors taking action, and convert all that to more money on your bottom line!
CLICK HERE to get it from Amazon or order direct from the author.

Jeff has more than 20 years of experience working with service-oriented business owners and sales professionals who are struggling to get clients. He helps them get their businesses seen online so they can get more visitors to their websites and convert those visitors into leads and sales. Do you want more leads?
Here are the 3 crucial steps to a profitable website.

Latest posts by Jeffrey Kirk (see all)