[Do you like this? Please share it for me!]
Many websites have a credibility problem. That is, they focus too much on their own business, trying to boost credibility, instead of focusing on their visitors' problems.
Video Summary
In this brief video, Jeffrey Kirk introduces one of the tips in his book, Dominate The Top – Simple Website Fixes To Rise In The Search Results And Crush Your Competition.
Jeff points out that often, when business websites are created, their need to create credibility often turns off the visitor, sending them to their back button and on to a competing website.
Jeff offers a tool you can use to check the "customer focus" of your own website to ensure that your site is more focused on your prospects than yourself.
Click the following link to get your own copy of Dominate The Top — Simple Website Fixes To Rise In The Search Results And Crush Your Competition!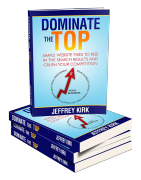 What Does It Really Take To Get A Top Search Engine Rank?

In Dominate The Top you will discover the simple steps you can take to fix your website.
Get higher in the search results, get more traffic, and get more visitors taking action once they get to your website!
CLICK HERE to get it from Amazon or order direct from the author.
Video Transcript
Hi. I'm Jeff.
Working with many businesses over the years, taking a look at their websites, and trying to figure out how we can get them to work better, one problem I've seen over and over again is that when they first built their website, they built it to be all about them. All about their own business.
The Problem With Credibility
This is one of the things that we think about all the time… It's well, I want this website to represent us, to build credibility for ourselves. And that's great, but you can't do that at the cost of turning off the person you are trying to attract to your website.
When someone arrives at your website for the very first time, they have a specific need. They did a search for something. They want something, and they are hoping that you can help them get that. So, that's why they're there.
And then if you turn around, and you're talking all about you, it's a bit of turn off. And hitting that back button, going back to the search results, and clicking to the next one on the list is so easy to do.
It's not like they walked down the street and walked into your store. No. They just did a search and clicked. They can leave just as fast. So you want your website to talk to them.
Do This Test… Fix Problems… Convert More Visitors!
One of the tools I recommend, it's called the Customer Focus Calculator. It's at www.customerfocuscalculator.com so it's really simple to remember.
And all you do is you put in your business name, or any other ways your business is known, and your website address, click the Go button ("Calculate Customer Focus"), and it tells you how focused your home page is on the visitor. And you want to see that it's more focused on the visitor than it is on you.
If it's not that way, make some changes to your site. Make your site talk to the prospect, the one who arrived there. Make it talk to them and answer their questions, their concerns.
If you do that, you're going to keep those visitors around.
That's just one of the tips I offer in my book, Dominate The Top: Simple Website Fixes To Rise In The Search Results And Crush Your Competition.
I'm Jeffrey Kirk. You can get the book at DominateTheTop.com.
[If you would like to be notified when new articles are posted, you can subscribe below.]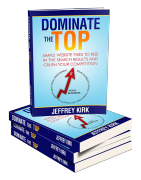 What Are You Waiting For?

Customer Focus is one element of Human Experience Optimization. Learn more about this in Chapter 4 of the book.
Imagine your website finally performing the way you always wanted it to.
Get higher search rankings, more traffic, more visitors taking action, and convert all that to more money on your bottom line!
CLICK HERE to get it from Amazon or order direct from the author.

Jeff has more than 20 years of experience working with service-oriented business owners and sales professionals who are struggling to get clients. He helps them get their businesses seen online so they can get more visitors to their websites and convert those visitors into leads and sales. Do you want more leads?
Here are the 3 crucial steps to a profitable website.

Latest posts by Jeffrey Kirk (see all)